September 27, 2011
September 22, 2011
Division Algebras and Supersymmetry III
Posted by John Baez

guest post by John Huerta
Hi. Since this is my first ever post to the n-Café, let me introduce myself: I'm John Huerta, former student of John Baez, and now a postdoc at Australian National University. I was hired by Peter Bouwknegt, a string theorist who, like me, divides his time between the Departments of Mathematics and Theoretical Physics. In the six weeks that I've been here, I've already had a chance to see some of Australia's amazing wildlife. I even got to feed kangaroos and wallabies! Here I am, offering some food to a wallaby: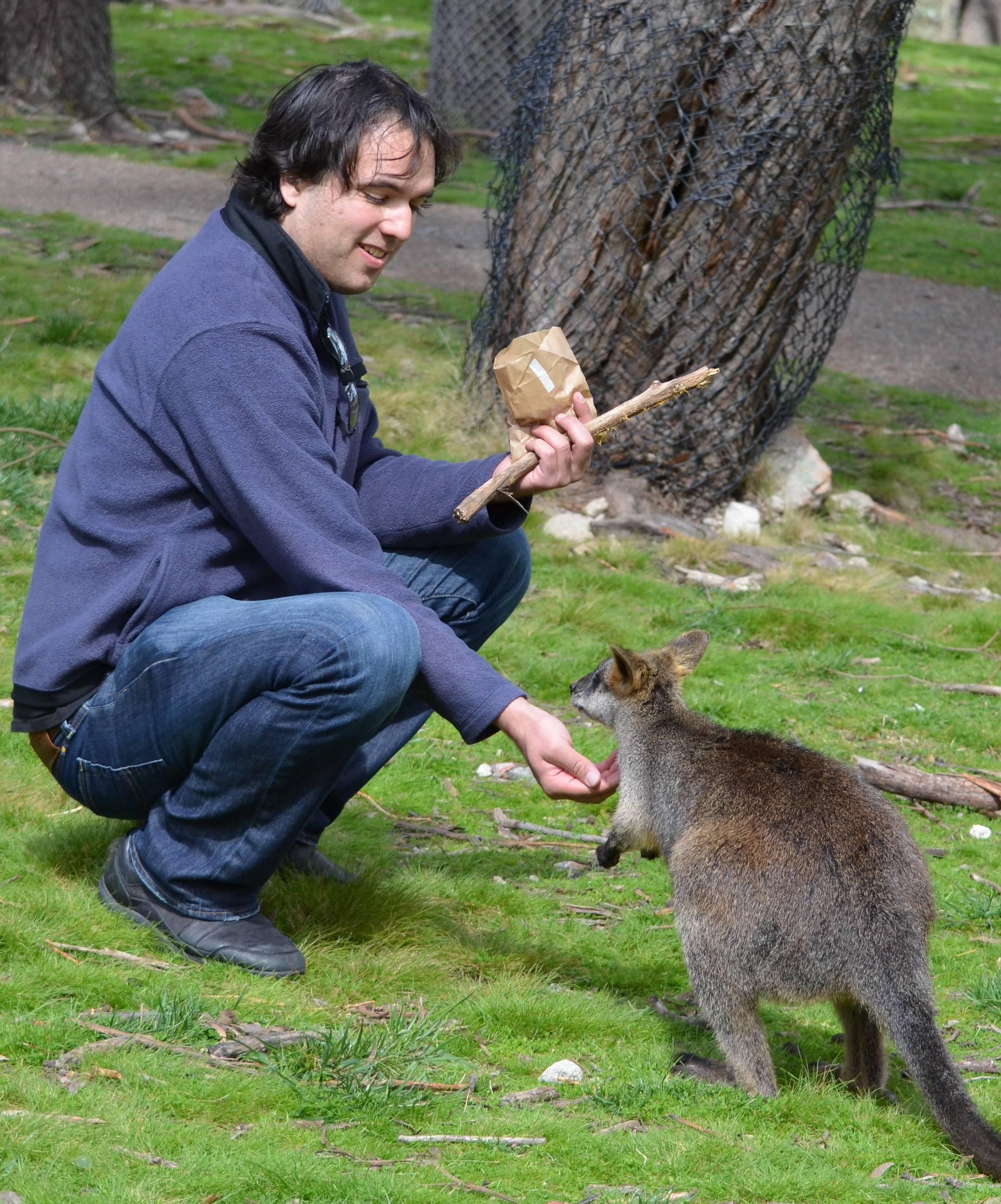 I hope to see a lot more of Australia while I'm here! More seriously, I plan to do some work on T-duality and generalized geometry, some fascinating areas of mathematical physics on which Peter is an expert.
That's enough about me. The real reason I am writing this post is to tell you about my first solo paper, which I just posted to the arXiv:
Abstract. Recent work applying higher gauge theory to the superstring has indicated the presence of 'higher symmetry'. Infinitesimally, this is realized by a 'Lie 2-superalgebra' extending the Poincaré superalgebra in precisely the dimensions where the classical superstring makes sense: 3, 4, 6 and 10. In the previous paper in this series, we constructed this Lie 2-superalgebra using the normed division algebras. In this paper, we use an elegant geometric technique to integrate this Lie 2-superalgebra to a 'Lie 2-supergroup' extending the Poincaré supergroup in the same dimensions.

Briefly, a 'Lie 2-superalgebra' is a two-term chain complex with a bracket like a Lie superalgebra, but satisfying the Jacobi identity only up to chain homotopy. Simple examples of Lie 2-superalgebras arise from 3-cocycles on Lie superalgebras, and it is in this way that we constructed the Lie 2-superalgebra above. Because this 3-cocycle is supported on a nilpotent subalgebra, our geometric technique applies, and we obtain a Lie 2-supergroup integrating the Lie 2-superalgebra in the guise of a smooth 3-cocycle on the Poincaré supergroup.
I would love your comments on this paper. They would really help me to improve it! Below the fold, I'll tell you what the paper is really about.
September 17, 2011
September 14, 2011
September 12, 2011
September 8, 2011