Isham on Arrow Fields
Posted by Urs Schreiber

In
Chris J . Isham
A New Approach to Quantising Space-Time: I. Quantising on a General Category
gr-qc/0303060
the author considers the concept of an arrow field on a category.
I recall his definition, reformulate it in arrow-theoretic terms, discuss the connection of "arrow fields" to ordinary vector fields and describe how to generalize it to a notion of covariant transport of sections of bundles with connection.

Chris Isham defines (beginning of section 3.1) an arrow field on a category as (my paraphrasing) a section of the source map. So it is an assigmnet which sends each object in to a morphism starting at .
Here is comment on that:
we know that something which assigns morphisms to objects is likely to be a natural transformation.
Since we want this assignment to be a section of the source map, it is likely a natural transformation starting at the identity functor on and ending at some endofunctor of , which I have given the name .
Chris Isham goes on to note that there is a natural monoidal structure on such "arrow fields": given two arrow fields and , we obtain a new one by assigning to each object of the composite arrow
Here is a comment on that:
this monoidal structure is the obvious monoidal structure on natural transformations of the above form
Finally, in section 3.2, the author defines an action of arrow fields on objects in the obvious way: each arrow field maps an object to the target of its value at that object:
Here is a comment on that:
notice that this is the action of the restriction of the functor that is the target of the natural transformation .
In the last paragraph of section 3.2, Chris Isham remarks that the action of arrow fields on objects of is like the action of the diffeomorphism group .
Using the above re-formulation in terms of natural transformations, we can make this precise as follows:
Let's consider the identity component of and look at "smooth families" of arrow fields that contain the trivial arrow field.
So let be the path groupoid of a smooth space , and let be the the additive group of real numbers, regarded as a category with a single object.
Write for the sub-category of endomorphisms of of the form where everything is smooth.
As we have just seen, each of these can be regarded as defining an "arrow field" on .
Notice how these arrow fields look like in this case: they assign to each point in a path in . Moreover, is the functor which sends any path to We might want to think of this as the adjoint action of arrow fields on morphisms.
Now, in order to get a smooth family of such, consider smooth functors These send in a way that respects translation on the real line: And smoothly so.
I think such smooth functors are precisely in bijection with ordinary vector fields on .
To me, this is an arrow-theoretic notion of vector field alternative to that used in synthetic differential geometry.

If "arrow fields" on are to be thought of as vector fields, they should act on functions on by some kind of translation.
At the beginning of section 4.2, Chris Isham considers the obvious action of an arrow field on a function:
My final comment here shall be that this action of arrow fields on functions also has a nice arrow-theoretic formulation in terms of the above natural transformations. This formulation allows in particular to readily see how arrow fields act by covariant transport on sections of fiber bundles over , in the case where a bundle with connection over is present. Such a covariant translation along arrow fields is conidered around equation (67) in Chris Isham's text.
The relevant diagram, however, is a little hard to draw here. I am discussing it in section 1.2,
of the document which accompanies the discussion here.
Here is a snapshot of the end of that section: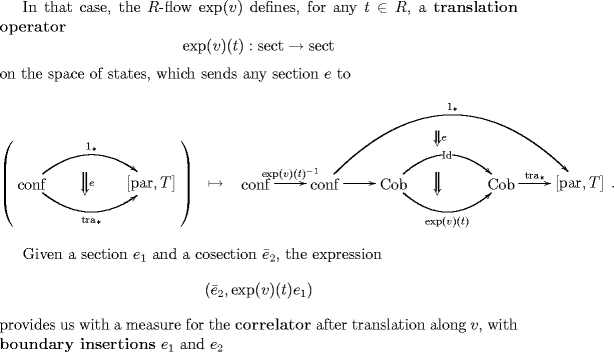 Posted at February 8, 2007 5:38 PM UTC