Instiki


Edit Web

At the bottom of the HomePage of each Instiki Web is an Edit This Web link to the configuration page. Following this link gets you to a page where you can configure various options for that Web, or to create a new one.

You'll need to enter the Instiki system password (which you chose when you initially set up Instiki) for any of these changes to take effect.

Here's where you can configure the name of the Web, and the path component of the URL under which it will appear. A name "My Wonderful Wiki" will generate URLs of the form /mywonderfulwiki/show/Homepage.

Markup

Here's where you can choose the flavour of markup for the Web. Currently, only Markdown, Markdown with itex2MML and Markdown with BlahTeX/PNG are supported. Don't bother trying the others.

Color

You can change the colour scheme of the Web. For more advanced tweaking of the appearance, you can customize the CSS below.

Safe mode

Strip HTML tags and stylesheet options from the content of all pages.

Probably unnecessary, since we have a very good HTML sanitizer in operation.

Brackets only

require all wiki words to be entered as [[wiki word]]. CamelCased "WikiWord" links won't be created.

I prefer to check this option. See the Syntax page for more details.

Count pages

produces a count of pages and of the number of words/page.

For those obsessed with statistics.

Allow uploads of no more than XXX kbytes

Here's where you can limit the size of File Uploads, or disable them entirely.

Here's where you can add CSS styling rules to customize the appearance of this Web.

Visitors are required to enter this password in order to access this Web. Setting the password to blank will remove the password protection.

You can turn on a read-only version of a password-protected Web, allowing visitors to read, but not edit its pages. This published version is accessible through URLs like /mywonderfulwiki/published/HomePage or /mywonderfulwiki/s5/My+Slide+Show (for S5 Slideshows).

Below this is where you enter the Instiki system password and submit the form to make the changes above.
Alternatively, you can click on "create a new web," which takes you to an interface to create a new Instiki Web, under the same installation.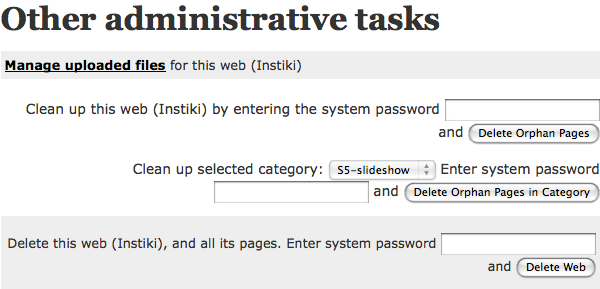 Finally, at the bottom of the page:
You can manage (list and/or delete) files which have been uploaded to this web.
You can delete "orphaned pages" (pages with no WikiLinks to them).
If you have Categories defined on your web, you can delete the "orphaned pages" in a particular category.
Or you can delete the entire web, along with all its pages and uploaded files. (Caution!)