Colbert on a Tear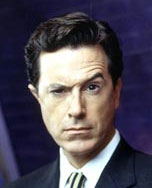 Stephen Colbert has been just outstanding lately.
His interview with William Kristol turned one of the brightest conservative pundits in Washington into a stammering pool of sweat. And his speech at the White House Correspondents' Dinner (QT, .torrent) … Let's just say it was one of the funniest they've ever had. (If you missed it, you don't need to take my word for it; download the torrent of the whole thing, and watch the rest of this year's event.)
The AP's Mark Smith introduced Colbert with
Mr. President, usually you and the politicians are the ones in the cross-hairs at this dinner. Tonight, no one is safe.
and, indeed, no one was … except, maybe, Helen Thomas.
Posted by distler at April 30, 2006 11:57 PM