Weak NABG
Posted by urs

On USENET David Roberts has mentioned some issues related with the desire to have weakened nonabelian bundle gerbes. It is not immediately clear what this would be, but the 2-bundle perspective might give a hint.

The fact that principal strict -2-bundles over base 1-spaces encode the same information as a nonabelian (bundle) -gerbes (NABG) suggests that there should be a weakened version of them, since there is a natural notion of weak 2-bundle and no good reason to restrict attention to strict ones.
In a strict 2-bundle the ordinary transition law
is replaced by the existence of a 2-group isomorphism
which has to satisfy the following coherence law: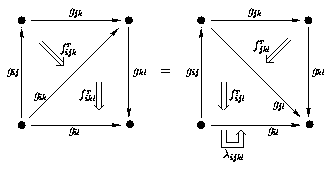 This ensures that using to simplify multiple products of is independent of the precise way one does this. So in a sense this ensures that we weaken only one level, not more.
Using the rules of strict 2-groups and in particular the fact that a strict 2-group is nothing but a crossed module the above diagram is immediately seen to be equivalent to the usual cocycle condition known for nonabelian gerbes:
(Here and in the following I assume for convenience that the twist vanishes so that .)
The generalization of the above situation to weak 2-groups is straightforward at the level of diagrams. For a weak 2-group associativity
is replaced by an isomorphism
called the associator.
This has to be inserted in the above diagram to rebracket the product of the . The more general diagram then looks like this: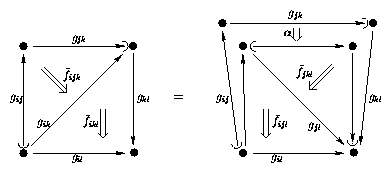 (Note here that semi-circles on the edges indicate the order in which the product is performed.)
So this is the diagrammatic version of the cocycle condition describing a weak 2-bundle (over a base 1-space), and hence something like this is to be expected to be necessary for weak nonabelian bundle gerbes, too.
It is easy enough to write this down. But since there is no known analog of the relation
strict 2-group crossed module
for weak 2-groups, it is hard to say what the above would mean algebraically.
One can work out what the corresponding 'weak crossed modules' would be like, but it seems to be a mess of properties that look much more complicated than the above diagram.
Posted at April 15, 2005 3:56 PM UTC