The Quantum Whisky Club
Posted by John Baez

I'm live blogging from the Quantum Whisky Club. We're in a dimly-lit office in the Computing Lab at Oxford University, listening to a rap song about Pythagoras composed by Richard Garner, who is here along with a bunch of other folks who'll be attending the Quantum Physics and Logic workshop.
Like who?

Well, from left to right you can see Eugenia Cheng's foot — if you look incredibly hard, that is — and then Alissa Crans leaning on the windowpane, and then the mysterious black silhouette of Andrei Akhvlediani, who is facing away, in front of the glare of a desk lamp. Then comes Richard Garner basking in the golden glow of light at the edge of a curtain, and then, in front of him — much easier to see! — Aleks Kissinger cheerily holding his cup high, and Philip Atzemoglou way in back, and me happily blogging away on my laptop…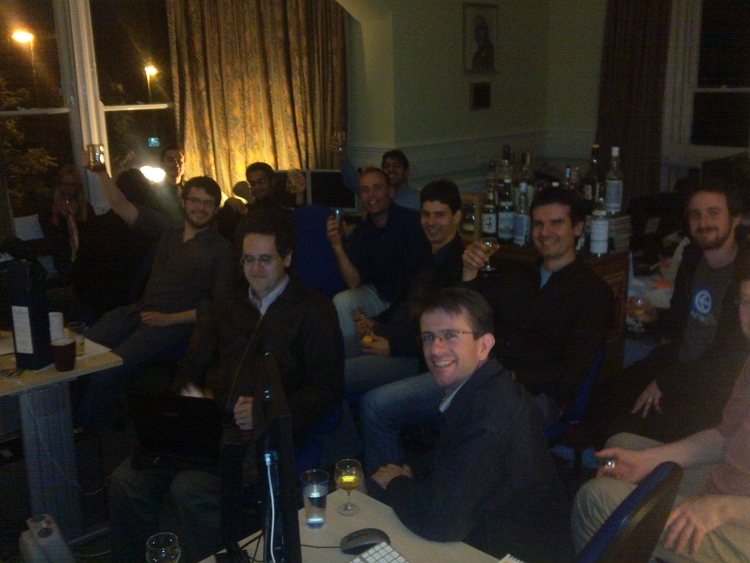 …and then Bruce Bartlett, and Ray Lal behind him way in back, and Chris Heunen, Simon Willerton right up front, then Andreas Döring grinning and holding a glass, Ross Duncan, and just a tiny bit of Bertfried Fauser on the right-hand edge of the photo. Present but invisible are Nadja Kutz… and the fellow taking this picture: the inimitable Jamie Vicary.
And look who just walked in! It's Bob Coecke!
… and Jonathan Barrett!
I'm giving my talk at 9 a.m. tomorrow, so I shouldn't have too much fun. Good night!
Posted at May 28, 2010 10:11 PM UTC